I could not wait to sit down and write this blog.  In fact, I cut my morning swim short because I was so compelled to get the words out of my head and onto paper.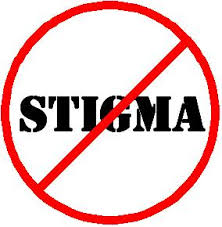 Stigma is An Ugly Word
Right up there with ugly words like bully, hate, liar, cheater, and user.  I come from a humble background.  I had stigma rear its ugly head many times but rather than it being a negative thing it had a profound effect on me.  Some of the stigma I went through as a young person was because I was raised by a single father in the 70's as a result of my mother's mental illness and her inability to care for me.  We were poor and abuse and addiction played a role in my childhood.   I barely got through high school and missed out on higher education because I was dealing with post- traumatic stress disorder from various childhood events and a near death experience.  I believe I was born an entrepreneur which has its own set of stigmas surrounding it.  To top all of this off I decided to use my entrepreneurial skills to build a head lice removal and product empire or perhaps it picked me.  No pun intended.
I am very familiar with stigmatized issues.  As a result I can relate since I have had a lot of doors slammed in my face and have heard the word no many more times than yes.  I have gone through fears, doubts, failures and rejection.  I felt the internal sting of not feeling good enough or smart enough.  Feeling not worthy and too defective to accomplish anything of value, a fraud that was just waiting for the other shoe to drop.  I still experience this from time to time but in an odd way these stigmas and feelings had a profound effect on me.  They actually propelled me further and afforded me great sources of resilience and persistence.  I soon began to understand that whenever a door slammed in my face or a person rejected me it was Gods way of telling me that there were better things in store for me.  This experience or person was not meant for me because what was meant for me would be far better.  It was my universal truth shouting at me to keep going forward and prove them wrong.  I don't let stigma hold me back but rather I use it to fuel my ambition and creativity.

"All In"  My Sunday Reading
I just spent a glorious Sunday reading one of the best books I have read in some time.  Often as an entrepreneur and mother I get caught up in the minutia of my business and family and the drama of the daily ups and downs this roller coaster takes me on.  How nice it is to take a day for myself and just be.  I had a glorious and busy week prior and I had the opportunity to meet one on one with Arlene Dickenson who signed her recent book, "All In" for me to read.  I had always admired her for the trail blazing she has done and her strong representation of woman in business but I had no idea how her story would effect and resonate with me.
I think everything happens for a reason and this book fell into my hands exactly when it should have.  I was in a dark place, second guessing myself and my ability to run my business effectively.   I felt uncertain, misunderstood and alone.  Having consumed the book in less than an afternoon I can say with certainty that I have a whole new respect and appreciation for Arlene, myself and all entrepreneurs who go "All in."  Reading the book felt like I was reading my own story in some way and feeling my own feelings as tears, laughter or moments of insight overwhelmed me at times.  Through the pages I identified with her and many of those she spoke about who shared the commonality of entrepreneurialism, many whom I have met or know in my own business circles.  I was impressed with the transparency and candour she expressed in the book, similar to the same she expressed during her talk earlier that day.  I could not put the book down and I was gleaning so much from it.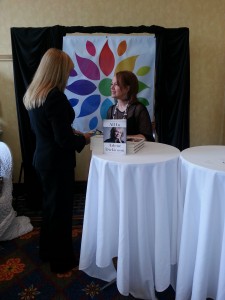 Hearing her say how insecure she really felt at times made total sense to me.  When she spoke of feeling like a fraud and feeling out of place when she was attending a big business diner in Calgary with a bunch of seasoned executives and successful business tycoons, I completely got it.   I joined my first ever board just three years ago and the first board meeting lasted four days.  I joined during a strategic planning session which had me sitting with top executives and business leaders who were overseeing the governance of the franchise industry's largest trade association in Canada.  Here I was feeling just like Arlene did during her first big business dinner.  Holding it all together while I tried to navigate the myriad of conversations and not look totally like a duck out of water.  I had no idea what to contribute and I was hearing words that I had never heard before.  Legal speak and board room metrics went over my head.  Talk about an education.  I wrote every one of those words down and studied them later that night.
At the board dinner to follow, I got the same question Arlene eventually did, "So tell me, what do you do?" Although I knew I was out of my league in the executive sense, "for now."  I was really proud to announce that I was an entrepreneur who had built Canada's largest head lice removal franchise system and product distribution company all from scratch.  Funny enough their eyes did not glaze over and I have since become very akin with many of them.  Contributing what I can form the perspective I have as an association member, an emerging franchise system and an intuitive business woman.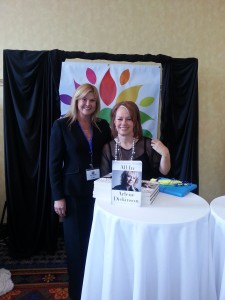 I think I liked the book mostly because it touched on so many of the stigmas I've been through in my life.  It validated a lot of what I have lived and what I continue to go through as a mother, and woman in business.  The stigma associated with being an entrepreneur was huge for me.  I also had an epiphany and realized that there really is no such thing as balance and trying to pull that off was unnecessary and unrealistic.
Stigma tells you that you cannot ascend obstacles and aspire to a place of greatness because of the odds stacked against you be them poverty, illness, lack of education or deep feelings of self-doubt and defeat.
Stigma is a Liar.
You can do anything you set your mind to.   Overnight success stories will happen to those of us willing to challenge the stigmas and push past them to put in the necessary work, blood, sweat and tears into realizing our dreams.  I am still waiting for my overnight success after thirteen years of hard work and I am proud of that because I know when it comes to its full fruition it will be well earned, genuine and I will truly deserve it.
Thank you for writing such an inspiring account of your journey Arlene.  Sharing your lessons learned and the journeys of others helped me feel inspired and no so alone in my own journey.